Quality Denture Services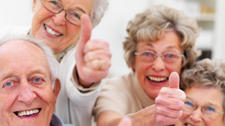 D'Andrea Denture Clinic in Regina offers several services to ensure your dentures fit well and support optimal oral health. In addition to standard, full dentures, D'Andrea Denture Clinic also offers complete upper and lower partials, , implant stabilized, removable upper and lower, and complete upper and lower immediate dentures to fit your oral health needs. Any type of partial denture will support your existing teeth, preventing further tooth loss.
Check-Ups
During your initial appointment and all follow up checkups, we'll do an exam of your oral cavity, head, and neck, assessing the tissue and bone. We'll also update your medical history chart, check the stability of your dentures, and clean and polish your dentures, addressing any concerns you may have. Our checkups also ensure your dentures fit well and feel comfortable. The denturist will also recommend if and when your dentures should be repaired or replaced.
Soft Linings
If your dentures have been adjusted several times but they still feel uncomfortable, soft liners may be the solution. They are especially beneficial for flat, thin, or sore gum tissue. With optimal home care cleaning, soft liners last an average of two to four years. As with all removable dentures, be sure to get regular checkups to avoid any complications, and get a professional cleaning provided by your denturist at D'Andrea Denture Clinic.
Repairs
D'Andrea Denture Clinic can repair fractured or damaged dentures to close to their original condition with our repair services. We'll let you know how you can avoid future damage. Most repairs can be completed the same day.
Relines
Relining is needed when tissues and bone shrink and change shape. Weight, tooth, or bone loss, along with illness can cause the need for relines. Your existing teeth, base, and bite position must be in good shape without wear for a reline procedure to be effective. We'll make an impression of your oral tissue.